FDA Approves Fourth At-Home COVID Test for Emergency Use
The Food and Drug Administration on Monday issued emergency use authorization for another at-home COVID-19 test.
The agency in a press release described the Quidel Quick-Vue At-Home COVID-19 Test, the fourth one it's approved since last November, as "another antigen test where certain individuals can rapidly collect and test their sample at home, without needing to send a sample to a laboratory for analysis."
The at-home test will require a prescription from a doctor, for individuals suspected of COVID-19, "within the first six days of symptom onset."
Dr. Jeffrey Shuren, director of the agency's Center for Devices and Radiological Health, called the offering "another example of the FDA working with test developers to bring important diagnostics to the public.
According to a statement issued by Quidel, the at-home test will provide patients with results within 10 minutes. "The QuickVue At-Home COVID-19 Test shows excellent performance, with positive results agreeing with PCR 84.8% of the time, and negative results agreeing 99.1% of the time, delivering confidence to patients running the test and facilitating informed discussions with doctors," it said.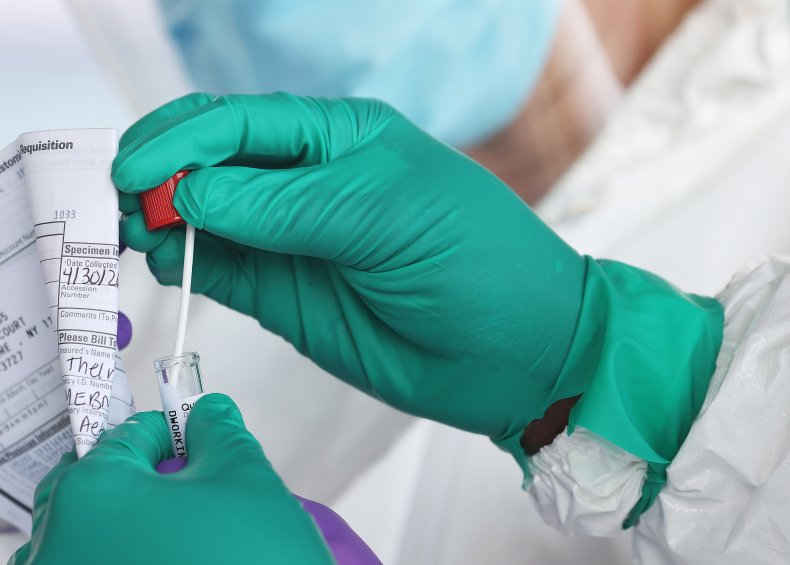 "Quidel's employees have truly risen to the challenge of the SARS pandemic. Our mission is to provide greater access to frequent, affordable and highly accurate diagnostic testing, and ultimately to enable individuals to take charge of their own health and help them make prudent decisions to protect themselves and their loved ones," Douglas Bryant, president and CEO of Quidel Corporation, said in the statement.
Newsweek was directed to the statement issued by Quidel after reaching out to the company for further comment.
The FDA has previously issued emergency use authorization for three other at-home COVID-19 tests.
In November, it granted emergency use authorization to Lucira COVID-19 All-In-One Test Kit, making it the first of its kind to receive approval.
In December, two other at-home COVID-19 tests received emergency use authorization, with the Ellume antigen test becoming the first over-the-counter test to be approved while the BinaxNOW COVID-19 rapid test received approval just a day later.
Monday's FDA announcement comes as COVID cases have continued to decline, with more Americans receiving COVID-19 vaccine every day.
According to a tracker from the Centers for Disease Control and Prevention (CDC), on average, there have been roughly 66,594 new cases over the past seven days. This is a decrease from previous months as the seven-day moving average was above 240,000 in January.
Despite the overall decrease from previous months, CDC Director Dr. Rochelle Walensky said on Monday that "the most recent seven-day average of deaths has also increased more than 2%…to nearly 2,000 deaths per day." She expressed concern over some states starting to lift their COVID restrictions, saying, "I am really worried about reports that more states are rolling back the exact public health measures we have recommended to protect people from COVID-19."