'We're beyond angered': Fed-up nurses file lawsuits, plan protest at White House over lack of coronavirus protections
For Pamella Brown-Richardson, a nurse practitioner in New York, the fever and cough came in mid-March. Soon after, her fever worsened, and she began experiencing shortness of breath and body aches — telltale symptoms of the novel coronavirus. By early April, Brown-Richardson was in the emergency room with double-lobe pneumonia caused by covid-19.
As Brown-Richardson tells it, there is probably only one place where she could have been exposed to the virus: the primary care clinic in the Bronx, where she says she spent days caring for people suffering from covid-19 symptoms with just a flimsy surgical mask as protection.
Brown-Richardson is one of more than a dozen nurses in New York, the epicenter of the U.S. coronavirus outbreak, who detailed their experiences on the front lines in affidavits corroborating three lawsuits filed Monday against the state health department and two area hospitals. The complaints, which were lodged by New York's largest nurses union, allege that inadequate protective equipment, among other failures, contributed to "compromising the health and safety of the nurses," according to a news release from the union.
"These lawsuits were filed to protect our nurses, our patients and our communities from grossly inadequate and negligent protections," Pat Kane, executive director of the New York State Nurses Association, said in the release. "We cannot allow these dangerous practices to continue."
More than 9,000 health-care workers in the United States have tested positive for the novel virus, according to recent figures from the Centers for Disease Control and Prevention. But as The Washington Post's Ariana Eunjung Cha reported, the numbers are "believed to be a gross undercount of infections due to the continuing lack of available tests in many areas," with some regions and facilities choosing not to test health-care workers in favor of saving kits for their sickest patients.
Among nurses, frustration over being forced to choose between doing their jobs and risking exposure to a potentially deadly virus appears to be reaching a tipping point this week. Beyond taking legal action, as in the case of New York's caregivers, members of National Nurses United, the country's largest union of registered nurses, have planned a protest outside the White House on Tuesday morning to raise awareness of their plight and demand federal funding for the mass production of personal protective equipment.
"We're tired of being treated as if we are expendable," Deborah Burger, president of National Nurses United, which has more than 150,000 members, told The Post. "If we are killed in this pandemic, there won't be anybody to take care of the rest of the sick people that are going to come."
She later added, "We're beyond angered at this."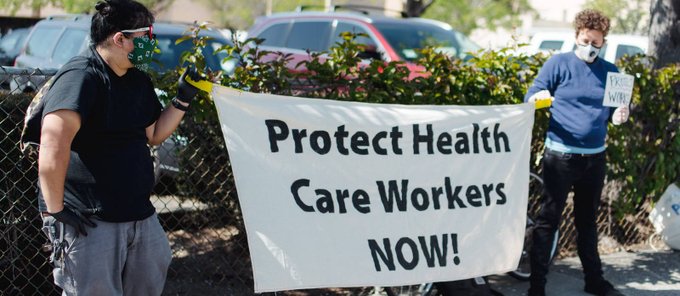 At Tuesday's protest, the names of nurses who have died of covid-19 in the United States will be read out loud, according to a news release. While there aren't official statistics available on the number of nurses who contracted fatal infections, Burger said she estimates that the count exceeds more than a hundred.
Many, if not all, of the cases involving health-care workers could have been prevented had sufficient safeguards been in place, she said.
"Everybody says they love nurses, they want to protect us, but we still don't have the safety gear that we need," said Burger, who has been a registered nurse for more than 45 years.
As detailed in the lawsuits filed in New York, nurses there allege that the virus's spread was aided in part by a lack of proper safety supplies. The complaints named the New York State Department of Health and two hospitals, Montefiore Medical Center and Westchester Medical Center, as defendants.
Several nurses alleged that they were told to use one N95 mask per week and were given paper bags in which to store their masks and no sanitation instructions, according to court documents. Others, like Brown-Richardson, say they were not provided with certain protective equipment despite numerous requests.
"We were instructed that we could only wear a surgical mask, which is not adequate protection against COVID-19, if the patient presented with a cough," Brown-Richardson wrote in her affidavit. "Otherwise we were prohibited from wearing a surgical mask because management believed that doing so could alarm patients."
The lawsuits also claimed that nurses and other health-care workers presenting covid-19 symptoms have been denied testing, raising the risk that they might unknowingly transmit the disease to their loved ones or anyone else with whom they may come in contact.
A spokesperson for the state health department told The Post in a statement that it cannot comment on pending litigation. But the spokesperson stressed that the department is "deeply grateful for the ongoing efforts of New York's health care workers to reduce the spread of COVID-19 by testing people who may be infected and treating those who are most in need."
"The State of New York continues to take every step necessary to ensure that health care workers, particularly those who are sampling and providing direct care, have the support and supplies needed to address this unprecedented public health emergency," the statement said.AD
The Westchester Medical Center Health Network disputed the lawsuit's claims.
"While we cannot comment on pending litigation, we know, and our care providers know, that the allegations in NYSNA's lawsuit are wrong," the network said in an emailed statement. "Our focus is, and has always been, protecting our workforce, which has been aligned from the outset in treating the most severely ill patients battling COVID-19."
In a statement to The Post, the Montefiore Medical Center said the New York nursing union's leadership "has chosen to attack a system, and the commitment of thousands of their colleagues, who have followed the Governor's emergency orders and are selflessly doing all they can to fight COVID-19 and save lives."
Meanwhile, Burger said the ability to bring change lies in the hands of the Trump administration and Congress. In addition to seeking federal funding, National Nurses United is calling on President Trump to use the Defense Production Act to produce supplies such as protective gear and testing kits, according to the news release. In recent weeks, Trump has used the act to increase the production of ventilators and other medical equipment, The Post reported.
Still, Burger said the protections currently being provided to health-care workers are not nearly enough.
"Every time I talk to nurses, it's like they have never felt so disrespected and ignored," she said. "They give firemen what they need to go into a burning building. They give policemen bulletproof vests and guns and Tasers and tear gas. What do we get? A bandanna or a scarf."