Tens of Thousands of Life-saving Ventilators on Deck to Combat COVID-19
Key medtech sector pushes the limits of capacity to produce unprecedented numbers of respiratory medical devices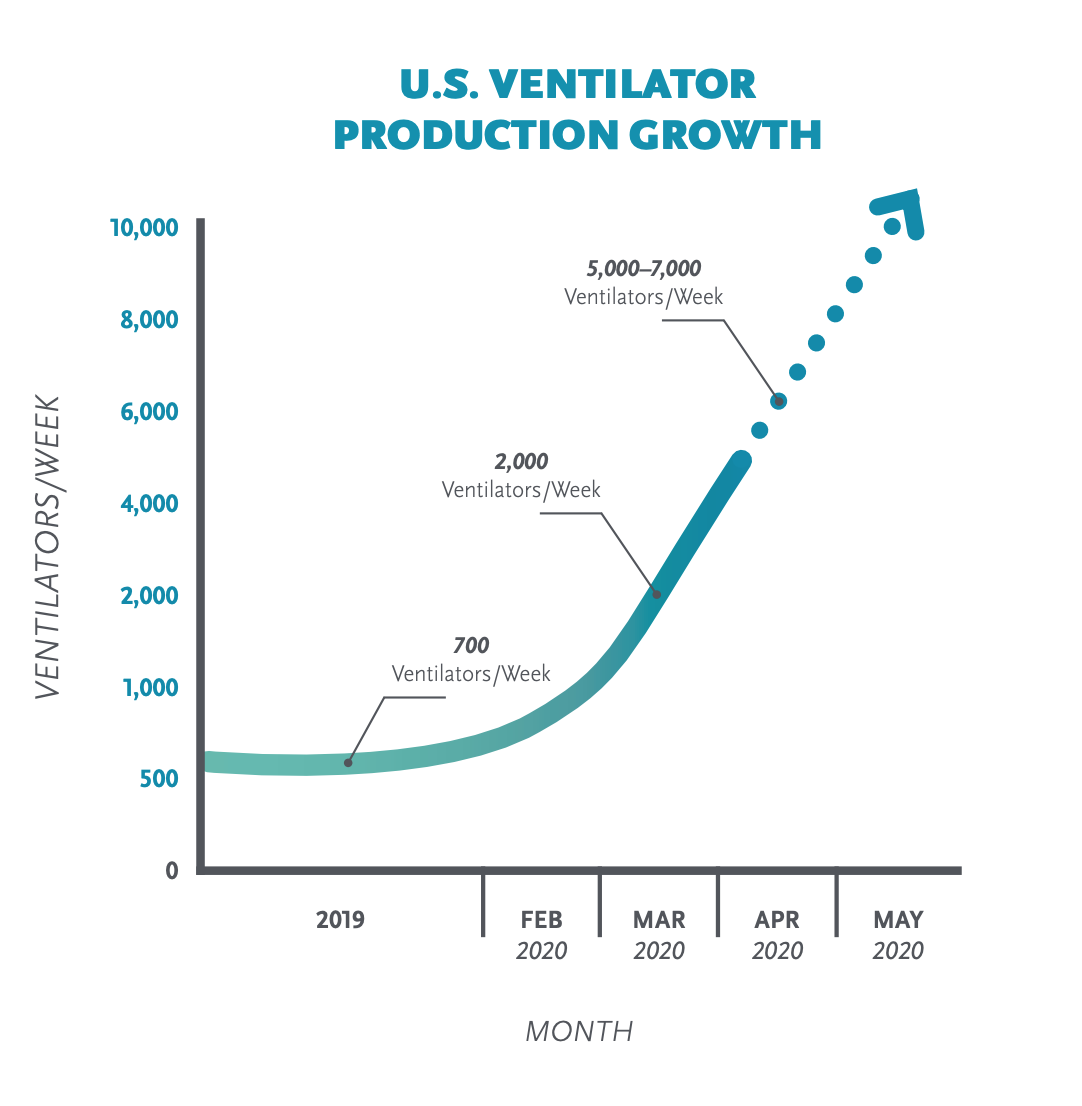 WASHINGTON, D.C. – The Advanced Medical Technology Association announced today that its member respiratory device companies have dramatically expanded the limits of their present production capacity in responding to the coronavirus outbreak, producing on average 2,000-3,000 ventilators per week, collectively, according to a recent survey of the seven member companies. In the coming weeks, company officials expect to ramp production to unprecedented levels, producing between an aggregated 5,000 and 7,000 ventilators per week in meeting the greatest needs across the nation. In 2019, when tallied together, these same companies were manufacturing approximately 700 ventilators per week for domestic distribution.
"This historic response is nothing short of extraordinary," said Scott Whitaker, president and CEO of AdvaMed. "Across the board, our ventilator members have boosted production by more than 285 percent to meet the demands of this global crisis. Through it all, our partners in government agencies have worked hard alongside our industry to help where we've needed it most, speeding approvals and fast-tracking the production of these sophisticated life-saving devices so manufacturers can get them where they are needed."
In a survey conducted by AdvaMed from March 25-31, member companies reported that they have added entire new manufacturing lines, repurposed existing manufacturing lines for less essential equipment, trained and reoriented engineers, and added new employees to meet the enormous demand for ventilators. Still other companies have added new shift lines to production, and others are partnering with third parties to explore opportunities to enhance supply chains and forming creative partnerships with other industries. Analysts predict these new capacities will yield as many as 5,000 and 7,000 invasive, COVID-related ventilators per week during the second quarter of 2020. This estimation of production does not include recently-announced partnerships with groups such as the automotive industry.
According to the CDC, a low but significant number of patients with COVID-19 may see their symptoms worsen with progression to lower respiratory tract disease. Many are diagnosed with pneumonia and subsequently develop hypoxemic respiratory failure or acute respiratory distress syndrome (ARDS). These patients are primarily treated with mechanical ventilation, both invasive and non-invasive, often with supplemental oxygen. AdvaMed companies such as Draeger, GE Healthcare, Hillrom, Medtronic, Philips, ResMed and Vyaire Medical manufacture ventilators – along with other respiratory devices – in the treatment of COVID-19 patients.
###