MSM Makes Top 10 for Online MS Biotechnology Program
New discoveries in biotechnology are transforming life as we know it. The emerging field innovatively intersects biology and technology and continues to lead new product development and commercialization designed to enrich lives. From drug development to the production of biologics, from plant and animal science to medical devices – biotechnology is everywhere and addresses many global problems such as climate change, aging, food security, and infectious disease, just to name a few. As a result, job growth of the biotechnology workforce is one of the fastest growing sectors globally (Bureau of Labor Statistics).
It's why Morehouse School of Medicine (MSM) is on the forefront of educating the next generation of Biotechnology leaders through our Master of Science in Biotechnology degree, which provides a foundation in the scientific and business components needed to advance biotechnologies.
Intelligent.com recently ranked MSM's online MSBT program among its top 10 out of hundreds of programs nationwide. Other schools making the list include Harvard, Purdue, and George Washington Universities. Read more in the full press release from Dec. 18, 2019.
MSM celebrated its first cohort of online students graduating with a Master of Science in Biotechnology (MSBT) on December 16, 2019, graduating four students who began the program in January 2019. They completed rigorous six-8 week terms that included courses ranging from biology to industry-related courses such as Making Medicine, Introduction to Biotechnology and Making Medical Devices to name a few.
The graduation event featured a "White Coat" presentation and remarks from the president and dean, Valerie Montgomery Rice, MD, as well as MSM faculty and staff. We are proud that our graduates are industry-employed leading at organizations such as the Centers for Disease Control and Prevention, the United States Department of Agriculture or headed to complete additional advanced graduate studies.
The ceremony also featured guest speaker Mr. Sahim Wallace, Technical Development Research Associate at Genentech who founded their Historically Black College and Universities Initiative to drive key diversity and inclusion efforts within the company, a critical need MSM stands by to continue to increase representation in the industry.
About the Graduates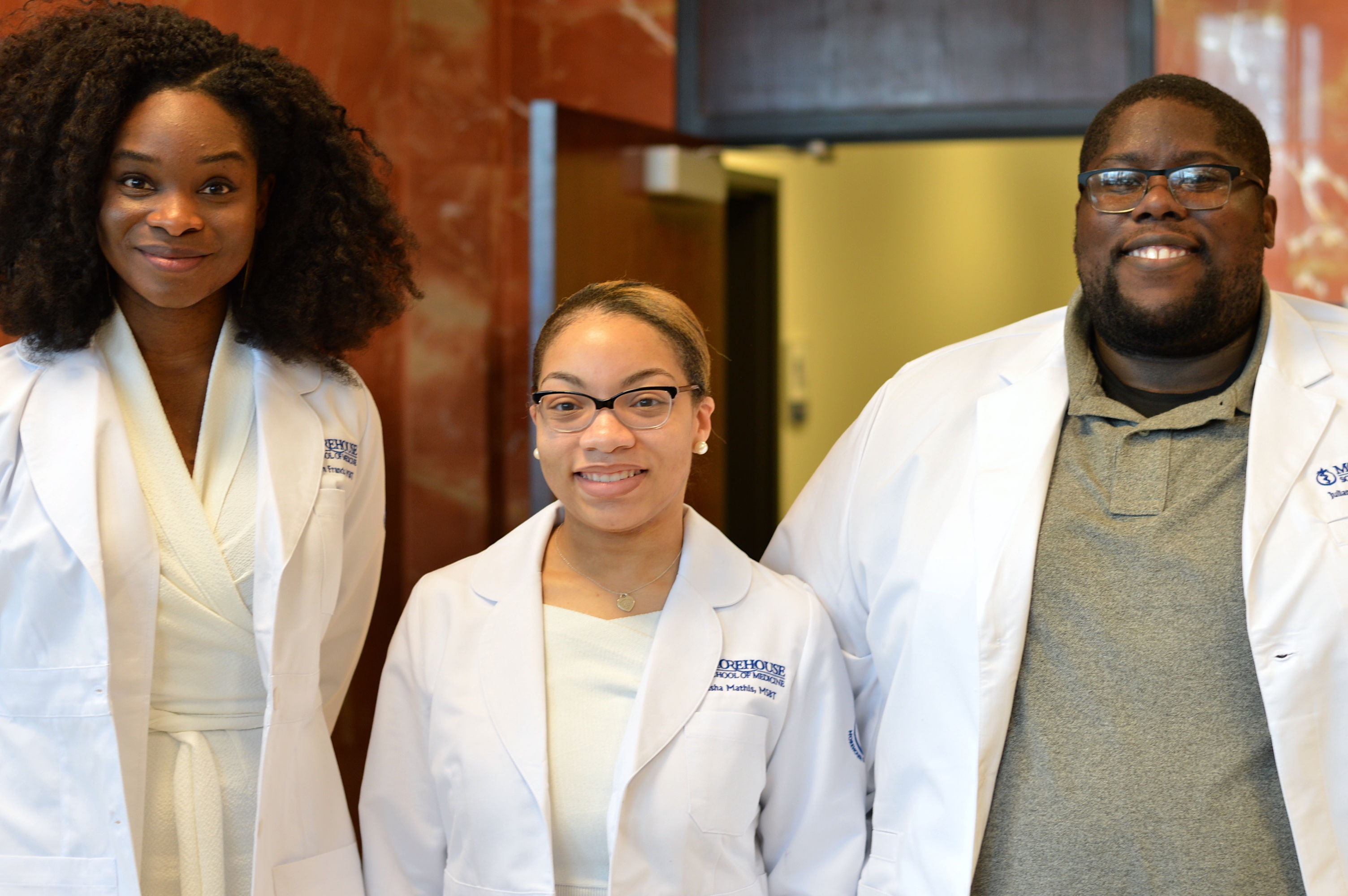 I hope that my research will help develop technology-based and behavioral interventions to narrow the gap in chronic disease outcomes among underserved groups. I'd like to develop a disease-agnostic digital epidemiology platform to collect behavioral, biological, and clinical data to more effectively provide relevant connected-health information to racial and ethnic minorities and women with the goal of achieving healthy lifestyle changes." Sherilyn A. Francis, MPH (pictured Left)
I look forward to exposure in different research labs through my Oak Ridge Institute for Science and Education (ORISE) fellowship at the Centers for Disease Control and Prevention focusing mainly on biotechnology principles. My goal is to start my own forensic science organization for the youth where biotechnology devices will be incorporated." Letisha Mathis (pictured middle)
Upon completing the Masters of Science in Biotechnology program, I have been accepted and will be pursuing an MBA at Mercer University's Eugene W. Stetson School of Business and Economics program, combining the principles of business administration with my functional knowledge of the biotechnology industry in a way that better leverages opportunities in the business of science." Julian Onyekwere (pictured right)