Georgia Tech alum plays role in bringing free COVID-19 testing to university
A Georgia Tech alum and major donor was instrumental in locating a free rapid COVID-19 drive-through testing site on the university's Midtown campus through his role as a board member of CVS Health Corporation, according to the school's president.
David Dorman, who graduated from Georgia Tech in 1975, is the non-executive chair of the CVS Health Corporation and worked with state officials to get the CVS Health rapid testing site opened at his alma mater, Georgia Tech President Angel Cabrera told the Atlanta Business Chronicle.
"He had a conversation with the governor [Brian Kemp] … and David suggested of course we try to do this at Georgia Tech," Cabrera said. "And as soon as we learned about that we said absolutely."
A CVS spokesperson said the Georgia Tech campus was chosen with input from state officials based on logistics, accessibility and capacity.
"We worked with state government officials to identify locations for the rapid COVID-19 testing site that would allow for easy access and which could accommodate multiple lanes of cars at one time to maximize testing efficiency," CVS spokesperson Christine Cramer said. She declined to comment on Cabrera's comments.
Dorman graduated from Georgia Tech with a bachelor's degree in Industrial Management in 1975. He was chairman and CEO of AT&T Corp. He is a founding partner of Centerview Capital Technology and former member of the Georgia Tech Foundation.
"I'm very, very proud a Georgia Tech alum is the chairman of the [CVS Health] board … and we're delighted to partner with them," Cabrera said.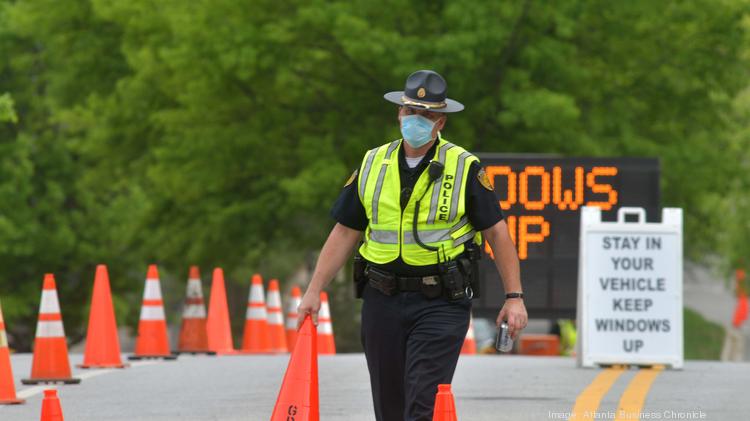 The testing site opened April 6 in a Georgia Tech parking deck at 352 Peachtree Place. People are required to be pre-screened online and register for a test in advance.
Other CVS free rapid drive-through testing sites are located in Rhode Island and Massachusetts.
Kemp announced in an April 6 news release that the public-private partnership with CVS is a much-needed resource to "identify more cases, get Georgians the care they need and prevent further infection in our communities."
"This unique, public-private partnership will strengthen our testing capability as we continue to take the fight to COVID-19 in Georgia, and we are grateful for CVS Health's support to stop the spread of the virus," Kemp said at the time.
As of April 13, there were more than 13,300 confirmed cases of COVID-19 in the state, with nearly 2,600 patients hospitalized and 464 deaths, according to the Georgia Department of Public Health.
The COVID-19 rapid tests, called ID NOW, are made available by Abbott Laboratories and were recently approved for emergency use by the U.S. Food and Drug Administration, according to CVS.
The cost of the test is currently being covered by the federal government to enable CVS to provide them at no cost to the public, Cramer said.
The state is providing on-site security, personal protective equipment (PPE) supplies for the team administering the tests and handling on-ground logistics, she said. CVS MinuteClinic and CVS Health professionals are overseeing the testing.
Cramer said the drive-through testing sites have the capacity to conduct 1,000 tests a day. Positive results can be delivered in as few as five minutes and negative results in as few as 13 minutes.
If a person tests positive, they are provided information on how to self-quarantine and when to seek medical care, Cramer said.
She said CVS is not currently sharing specific number of tests being conducted or what percentage of tests come back positive or negative. The test site has the capacity to conduct 1,000 tests a day, she said.