Across Atlanta, unprecedented demand for Covid tests strains capacity
By 4:30 a.m. Saturday, people seeking a Covid-19 test had parked their cars in a line that wrapped around a 13-acre Alpharetta shopping center and looped and weaved through the center of it.
Some caught a nap behind the wheel.
Others read on their smartphones.
Many wore masks as they waited for the rapid drive-through tests to start shortly after sunrise. They had reserved a spot online for first-come-first serve. But, shortly before the sun came up, a manager with the clinic running the tests began walking up to cars to break the bad news.
Unless the people in line had an appointment, they could not get a test today.
Many got out of their cars, looking incredulous. They protested. They talked about reserving a spot.
It didn't matter. The clinic's six-person staff was set up to conduct about 200 drive-through tests per day. Demand was now four times its capability. The clinic didn't have the capacity and neither did the sprawling shopping center. Cars were blocking access to the businesses trying to open, including Best Buy and Joann Fabrics and Crafts.
Slowly people returned to their cars and the parking lot emptied.
The scene this past weekend at Peachtree Immediate Care, an Emory Healthcare-affiliated clinic, offered a lens into demand for rapid drive-through Covid test across metro Atlanta — and the struggle to handle the surge.
"Unprecedented," Bill Miller, CEO of CRH Healthcare, part of the Emory Healthcare network, said in an email to Atlanta Business Chronicle.
Emory has up to 11 clinics offering rapid testing, a critical piece of the state's Covid testing infrastructure. Peachtree Immediate Care began testing on a first-come-first served-basis in late March, Miller said. With the recent increase in demand, limited staff and parking, the urgent care provider has been converting to online-only appointments for the better part of a week. As of this week, each clinic is set up this way.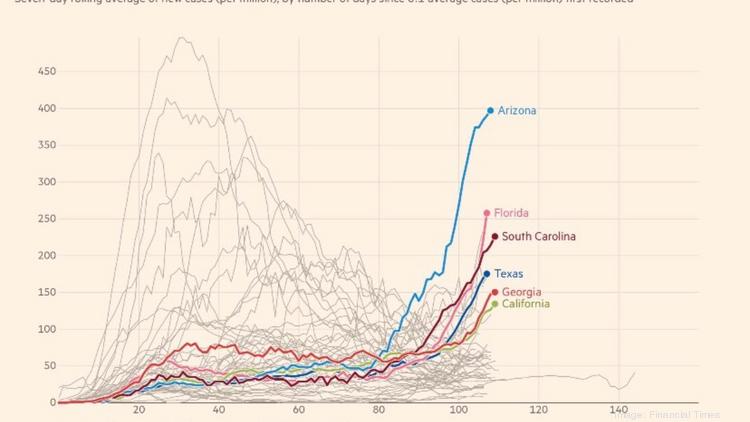 The state Department of Public Health maintains the other major piece of Georgia's testing network. As of this morning, the state has conducted 823,117 tests to identify new cases. Almost 9% came back positive.
Georgia now has just under 79,500 confirmed cases. Over the past month, that number has continued to rise — and with it the public's urgency for a test.
"We are seeing a huge demand for testing at our specimen points of collection statewide," said Nancy Nydam, a spokesperson for the Georgia Department of Public Health.
On June 26, the most recent day the data was available, the state collected more than 12,000 specimens. Two weeks ago, it was averaging between 5,000 and 6,000 specimens a day.
"So far, we have been able to keep up with the demand," Nydam said.
On June 29, Gov. Brian Kemp signed two executive orders extending the Public Health State of Emergency and existing Covid-19 safety measures. They had been set to expire at midnight tonight.
Kemp's order allows for "enhanced coordination across government and the private sector for supply procurement, comprehensive testing, and healthcare capacity" through Aug. 11. Social distancing requirements that include banning gatherings of more than 50 people unless there is 6 feet between each person and requires sheltering in place for "those living in long-term care facilities and the medically fragile" now runs through July 15.
He said the decisions were made to "protect the lives — and livelihoods — of all Georgians by relying on data and the advice of public health officials."
"While we continue to see a decreasing case fatality rate, expanded testing, and adequate hospital surge capacity, in recent days, Georgia has seen an increase in new cases reported and current hospitalizations," Kemp said.